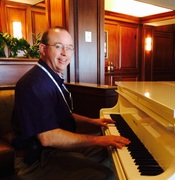 Make a joyful noise unto the Lord, all ye lands. Serve the Lord with gladness: come before His presence with singing. - Psalm 100:1.2

---
Why Hymns?
I am first and foremost a church musician, which has included everything from accompanying a choir and congregational singing to playing piano and keyboard with our praise and worship band. In an era of great worship music from the likes of Michael W. Smith, Chris Tomlin, and all things Hillsong, you might ask what this middle aged guy is doing on the web playing church hymns. What's that all about?
The answer is that I grew up on church hymns, and over the years, I had dreamed up a number of arrangements that had largely remained in my head. In preparation for a Christian music conference in 2008, I decided to start writing them down. I also play more contemporary Christian music, as well as mainstream stuff, but I keep coming back to hymns because they contain powerful messages and wonderful melodies that can be expressed in many different ways. We tend to forget that the melodies themselves often came from great classical composers such as Beethoven, Mendelssohn, or Bach. And many of our well-known hymns have incredible history behind them, with the story of Horatio Spafford and It is Well With My Soul being one of the most famous.
I was asked by a number of friends to record some of this music, and a 5 song EP is now available. You can check that out on the Worship Music page. Back in 2008, I met some wonderful people at Music in the Rockies, some of whom also encouraged me to consider offering my music as a resource to other church musicians. I'll continue doing that as well, with a goal toward completing written music for all 5 pieces on the EP and hopefully adding some new music. So please check back for more, or for updates on my blog at
http://bobbucymusic.wordpress.com
.
I've also started playing some classic oldies with friends and fellow band members at
Salem Baptist Church
. You can check out more about that on the Music Around Town page.